Uruguay
Jericho Fabie
Linda Desautels

Background
Montevideo, founded by the Spanish in 1726 as a military stronghold, soon took advantage of its natural harbor to become an important commercial center. Claimed by Argentina but annexed by Brazil in 1821, Uruguay declared its independence four years later and secured its freedom in 1828 after a three-year struggle. The administrations of President Jose BATLLE in the early 20th century established widespread political, social, and economic reforms that established a statist tradition. A violent Marxist urban guerrilla movement named the Tupamaros, launched in the late 1960s, led Uruguay's president to cede control of the government to the military in 1973. By yearend, the rebels had been crushed, but the military continued to expand its hold over the government. Civilian rule was not restored until 1985. In 2004, the left-of-center Frente Amplio Coalition won national elections that effectively ended 170 years of political control previously held by the Colorado and Blanco parties. Uruguay's political and labor conditions are among the freest on the continent.
Montevideo. Almost 45% of the Uruguayan population lives in Montevideo, and why not, it was recently ranked the city in Latin America with the highest standard of living. Montevideo may seem to be lacking the pizzazz of Buenos Aires, but if you take the time to look the city is filled with culture and interesting sights not to mention the inviting strip of white beach running the length of the city. Buquebus has three ferries every day that go straight to Montevideo, or a less expensive option is to take the ferry to Colonia and connect with a bus from there.
---
Geographical Location
Geography
Uruguay, on the east coast of South America south of Brazil and east of Argentina, is comparable in size to Oklahoma. The country consists of a low, rolling plain in the south and a low plateau in the north. It has a 120-mile (193 km) Atlantic shoreline, a 235-mile (378 km) frontage on the Rio de la Plata, and 270 mi (435 km) on the Uruguay River, its western boundary.
The Oriental Republic of Uruguay is in southern South America. It is bordered by Argentina, Brazil and the South Atlantic Ocean. Montevideo is the capital city and a major port. Salto is Uruguay's second largest city.The terrain consists of coastal lowland, rolling plains and low hills. Rivers include the Rio Uruguay and the Rio Negro. The climate of Uruguay is warm and temperate.
---
Fast Facts
President: Tabaré Vázquez (2005)
Population (2007 est.): 3,447,496
Birth rate:13.7/1000
Life expectancy: 76.5
Capital and Largest city (2003 est.):
Montevideo, 1,745,100 (metro. area), 1,347,600 (city proper)
Monetary unit: Uruguay peso
Languages: Spanish, Portunol, or Brazilero
Ethnicity/race: white 88%, mestizo 8%, black 4%
Religions: Roman Catholic 66%, Protestant 2%, Jewish 1%
---
Economy
Uruguay has traditionally been dependent on livestock and related industries.
Agriculture earns just over nine percent of the Gross Domestic Product (GDP) and employs around nine percent of the workforce. Agricultural products are rice, wheat, soybeans and barley. Cattle, sheep, goats, pigs, chickens and horses are reared. The fishing industry provides fish for export.
Industry produces thirty-three percent of the GDP. Major industries are petroleum products, chemicals, transport equipment, electrical machinery, textiles, food processing and beverages.
The services sector provides almost sixty percent of the country's GDP and employs the largest percentage of the working population. Many people work for the government, others work in commercial sectors such as banking. Tourism is an increasingly important industry.
---
Environment
National Parks in Uruguay are the National Park of Santa Teresa and the National Park of San Miguel.
Marshlands in the east of Uruguay are a designated UNESCO Biosphere Reserve. Water birds such as the black-necked swan, heron, ibis, flamingo and stork can be found in Uruguay.
Charles Darwin, the great naturalist, on his legendary voyage around the world in the 'Beagle', visited these shores towards 1833. On his explorations, most of which were along the shores of the River Uruguay, he noted the great variety of flora and fauna.
---
Architecture
Although a modern city, a number of buildings in the Spanish Colonial style can be seen in Montevideo. These include examples of architecture from the eighteenth and nineteenth centuries.
Founded over forty-five years before Montevideo, Colonia del Sacramento was an early Portuguese settlement on the Rio de la Plata. The Historic Quarter of the City of Colonia del Sacramento became a World Heritage site in 1995.
---
Food
Beef and lamb are the mainstays of Uruguayan cuisine. Meat is fried, grilled, roasted, barbecued, stewed, and made into sausages. Other foods eaten include fish, cheese, eggs and bread.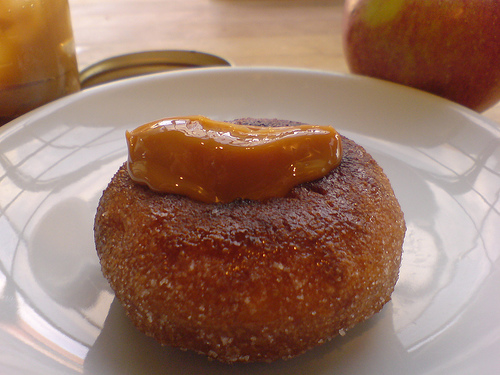 Pasta and pizza are Italian contributions to Uruguay's food. Dulce de Leche, a caramel sauce, is used in desserts including flans. Lemon pie is another favourite sweet dish. Yerba mate, a traditional drink, is made with the leaves of the yerba plant. Coffee and tea are popular drinks and wine is produced locally.
The delectable alfajor, a sandwich cookie made with buttery biscuits filled a layer of dulce de leche, is a very popular snack in all of these South American countries. The cookies can be dusted with some powdered sugar or covered with chocolate. I dunno about you but anything with dulce de leche has my full, undivided attention. hmm don't they look good? This would be worth the trip to Uruguay.
---
Music
Uruguay has a number of local musical forms. The most distinctive ones are tango, murga, a form of musical theatre, and candombe, an afro-uruguayan type of music which occur yearly during the Carnival period. The "candombe" is a typical Uruguayan music style,based on an adaptation from African rhythms and produced by "tamboriles", a drum which is typical to Uruguay.
"Candombe" music can be easily found and enjoyed during Uruguay's carnival season, when "comparsas", consisting on a large group of people with drums, walk while playing their music accompanied by others who dance following the rhythm of the candombe.
There is also milonga, a folk guitar and song form deriving from Spanish traditions and related to similar forms found in many Hispanic-American countries. The famed tango singer Carlos Gardel is rumoured to have been from the Uruguayan town of Tacuarembó.
Uruguay is also represented by several other music styles which combine rhythms such as rock, jazz and many other Western forms, frequently makes reference to the distinctly Uruguayan sounds.
I believe you will really enjoy this piece of music from "Youtube", with its mix Candombe Jazz and traditional sounds from Uruguay. This group is called La Candomera and Alejandro Luzardo.
Their music is very difficult to purchase, perhaps it may be easier from their website on MySpace.
Below is a classic piece of the sounds of Candombe
---
Sports
Uruguay won the first Football World Cup in 1930. Twenty years later, Uruguay took the Cup for the second time. The top football clubs in Uruguay are Nacional and Penarol. Other team games played in Uruguay are basketball and volleyball.
Horse-jumping, horse-racing and polo are popular in Uruguay. Rodeos are held throughout the country.
The Atlantic coastline provides plenty of opportunities for water sports such as swimming and fishing.
---
Holidays
Honoring General Artigas
Christmas, Easter and all religious holidays are celebrated.
New Year's Day - 1 January
Landing of the 33 Patriots - 19 April
Labour Day - 1 May
Battle of Las Piedras - 18 May
General Artigas Day - 19 June
Independence Day - 25 August (1825 from Brazil).
---
Art
Famous Uruguayan artists include Juan Manuel Blanes (1830-1901), Pedro Figari (1861-1938) and Joaquin Torres Garcia (1874-1949). In the world of literature, Juan Zorrilla de San Martin (1855-1931) is known as Uruguay's national poet.
Carnival, the week before Lent, is an opportunity for the celebration of traditional music and dance.
Cultural institutions in Uruguay include the Uruguay Symphony Orchestra, the Orquesta Filarmonica de Montevideo, the Centro Cultural de Musica, and the Teatro Solis. Museums can be found in all Uruguay's cities.
---
Landscape
The City of Punta del Este, which is part of the Department of Maldonado, is located on the Southeast end of Uruguay on a long peninsula of sand, woodlands and rocks from which it has taken its name. This is one of the most important and popular tourist destinations in the country, chosen by thousands of visitors of all ages and nationalities. It is a synonym for international jet set, good life and good taste. Punta del Este is one of those places in the world where everybody wants to return, maybe because its beautiful beaches are the perfect destination for those who are in search of sunshine, white sand, woodlands, clear waters and much glamour.
"La Mano" this giant concrete hand sculpture rises out of the sands of the Atlantic. It was created by the Chilean artist, Mario Irrarazabal, and was inaugurated in 1981. Tourists love this giant sculture, the hand gets larger when there is low tide.
page revision: 40, last edited: 03 Jul 2008 06:59